Thank you – Together we have power!
We thank you for all your commitment to helping the Ukrainian people. Without your donations we would not be able to pay for the tractor-trailer to travel to Lviv to deliver medical supplies. Without you, we would not be able to send much needed Israeli compression bandages, IV bags, countless rolls of bandages, first aid kits and different wound dressings and other medical items. Without you, we would not be able to buy boxes of deodorants, hygienic products, toothpastes, wipes, and diapers for kids and adults. Without you, we would not be able to deliver brand new undergarments, socks, 20lbs of toothbrushes and many more of needed items.  Without you, this humanitarian effort would not be so successful! 
Here is a quick snapshot of some of the items we donated. See below for the detailed blog of our experience in our March 16th through 21st visit to Poland.
How can we keep helping?
We are so thankful for the outpouring of support for our initial requests for assistance for the people of Ukraine. For those that would still like to help, you are welcome to keep donating money and bringing medical supplies to the Breezy Willow Country Market store. The items that we weren't able to take with us in March will be transported to the Ukrainian Church in Silver Spring, as they will be sending regular shipments of donations to Ukraine. Ukraine sends planes to the US and we have been told we can keep bringing the items.
Again, we thank everyone that has helped in this effort!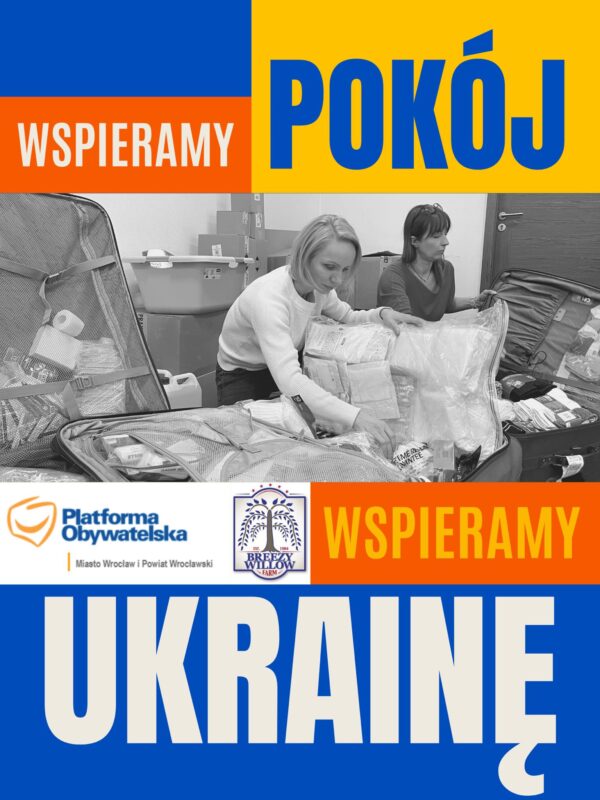 Detailed Travel Blog
The war doesn't discriminate
Russian President Vladimir Putin invaded Ukraine on February 24th, 2022. Putin was hoping that his operation would take no more than three days… but he was wrong. As brave Ukrainian soldiers were protecting their land, unfortunately more and more civilians were losing their lives. Many Ukrainian wives and mothers were forced to leave their husbands and sons behind and escape from the continuous bombs and gunfire.
Ukrainians started fleeing their homes. Early in March, a friend of mine in Krakow, Poland, Natalia, welcomed to her small 1-bedroom flat a mother (also named Natalia) with three daughters, Justyna, Maria and Dana. Although Ukrainian Natalia and her girls live in Lviv (which was spared from vicious shelling and bombarding), they had to leave their flat so her husband's family from Kyiv would have a safe home. It was just easier for Ukrainian Natalia and each of her daughters to pack only one backpack (and their iphones :)) and to head for the western border and to be placed at my friend's small flat. They had chosen Poland because her fourth daughter is a 3-rd year student at the University in Krakow. Besides Poles and Ukrainians have a long shared history with some parts of western Ukraine, like the city of Lviv (that's where my family is from), once having been part of the Polish state for several centuries.
When I found out that my Polish Natalia had welcomed a family to her cramped apartment, like millions of other Polish, Romanian, Slovakians, Hungarians and Moldovans, I also wanted to help. When I asked if I could buy any food or clothes for them, Polish Natalia said that she had no extra space to store it. They didn't want any money either; the Ukrainian Natalia didn't even allow for Polish Natalia to buy food for her – she still had her own money and that's all she needed to feel normal. What a strong and proud mother Ukrainian Natalia is!!! So what could my husband, Jason, and I do?
On March 8th Jason, and I decided that we would travel to Wroclaw, Poland (my home country) to help for 5 days. Jason's mom who runs Breezy Willow Country Market in Ellicott City came up with an idea to start collecting the most needed items for Ukrainians. I immediately contacted my childhood friend in Poland, Katherine, who heads a foundation "Moc Pomocy" ("Power of Help") in Wroclaw, Poland who said that medical items were the most needed along with new undergarments and socks. She also told me that her foundation was concentrating on helping refuges coming to the city and also were collecting supplies for the military hospital in Lviv. Katherine also said that there was a huge tractor-trailer in Germany that already had 27 pallets of medical supplies and she was raising money to pay for its ride to Lviv.
The amazing power of collaboration
Not surprisingly, by the second day of the collection we had a van full of boxes and suitcases of the items and a growing cash donation pool for items to be purchased while in Poland. As people were coming into the Breezy Willow Country Market they were happy and cried at the same time, because they knew that they were personally helping these brave Ukrainians. Our goal of helping in Poland was only possible because of the support of our community: the Breezy Willow members, my local friends, who I feel that bought out the entire medical supplies store in Ellicott City and showered Ukrainian Natalia and her daughters with gifts; Eva who worked with many families in her son's school in Bethesda and collected 20lbs of toothbrushes apart from countless packs of undergarments and socks! my amazing co-workers from T. Rowe Price who immediately wanted to contribute to the effort and my new friend and a co-worker, Elena who is Ukrainian herself, collected more medical supplies and organized a detailed list of needed supplies on Amazon. Having the Amazon list allowed everyone wanting to help a more targeted ideas of what was needed. There is power in collaboration, indeed!
 By the time we were leaving the following week, we all had collected nearly 3 vans worth of the supplies and enough money to buy additional items like diapers, wipes, face creams, deodorants in Poland.
On the fourth day of the fundraiser, my friend Katherine said that her foundation still needed money to pay for the tractor-trailer to the military hospital in Lviv.  "What should we do?" I asked my husband? We thought that by paying for the trailer to drive all the way from Germany, we were immediately providing help to Ukrainians. And that's what we did. Huge thanks to my local friends who helped with that! 
On the fourth day of the fundraiser, my friend Katherine said that her foundation still needed money to pay for the tractor-trailer to the military hospital in Lviv. "What should we do?" I asked my husband? We thought that by paying for the trailer to drive all the way from Germany, we were immediately providing help to Ukrainians. And that's what we did. Huge thanks to my local friends who helped with that!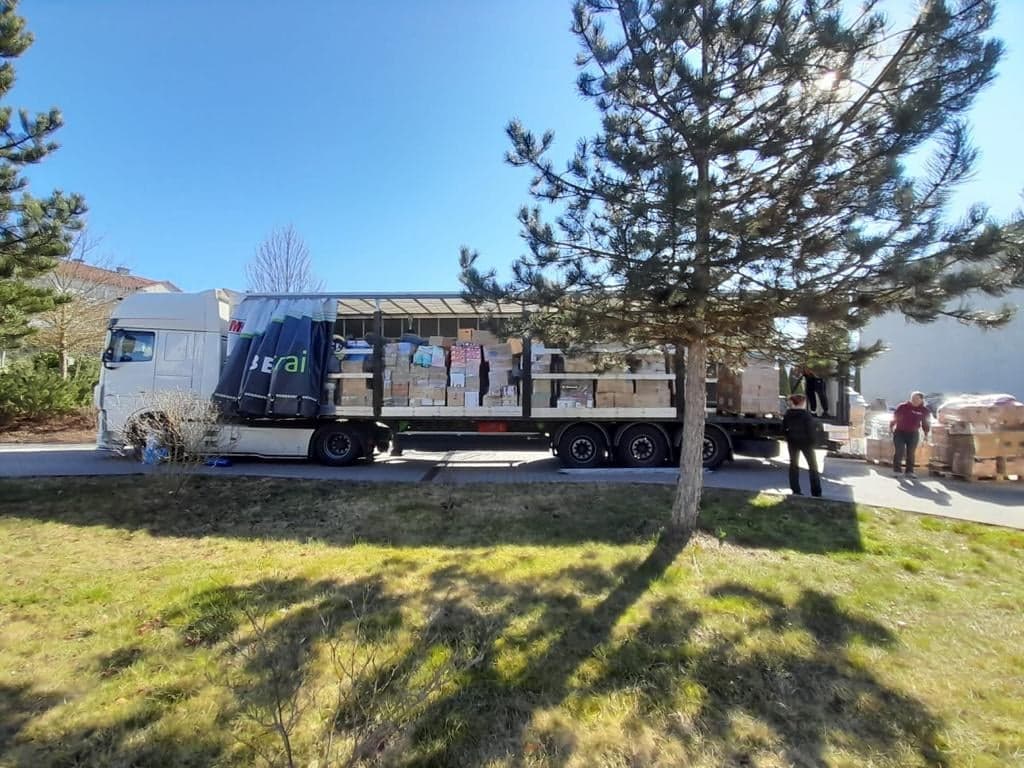 Day 0 – We were flying out on Wednesday, March 16th. Through the spread of the word that we were going to Poland, a day before the flight, I was contacted by a Ukrainian couple (Natalia and Aleksy – yes, there are lots of Natalias we met over the past couple of weeks). They were looking for someone to take two suitcases packed with military items and non-military equipment to Krakow, which then would be taken directly to Kyiv to help the resistance fighters. A million thoughts were running in our minds: how will we manage to take all this stuff!?! Our family room was full of diapers, hygienic products, undergarments, socks and lots of lots of first response medical items, and we could only take no more than 5 suitcases! (beyond 5 bags, the cost just was not reasonable).
 Aleksy met Jason and I at the IAD airport five hours prior to the flight. People who know me well know that I don't like being late. I figured that if I have to negotiate free bags, it would be prudent to arrive early… like 5 hours early!  It seems that the universe was working in our favor that day. Aleksy parked his car right in front of our van. He came out of the car wearing a black shirt with "Protector of Ukraine" writing on it- "wow, he was serious" I said it to myself. He was stunned to see our suitcases and hesitated to give two additional ones, but I told him not to worry, as we were ready to take his first, because they contained important items needed by brave Ukrainian soldiers.
On a way to a ticket counter Aleksy said that he had gone to the Ukrainian Embassy because he wanted to go to fight for freedom of his country but was advised not to, as he would not be able to come back. Instead he and his wife were scouting local groups on Facebook looking for people who were going to Poland and other neighboring Ukraine countries and hoped that they would take bags with them.
As we approached the check-in kiosk with a total of seven bags (4 bags full of medical supplies and 3 bags full of undergarments and socks), a nice United Airlines attendant approached us. We had "Humanitarian Help for Ukraine" taped to each suitcase. She told us to wait a few minutes. As we were called over to the ticket counter, I was trying to hold my tears –actually, I was ready to burst into a full-blown cry, if my convincing was not enough. I handed over our passports; my Polish and my husband's American passport, still holding my tears in. Then this lady came to us. She introduced herself as Pamela and immediately praised our efforts for helping. As Jason was explaining what we had in our bags, the attendant at the counter simply handed over to me seven bag tags. I turned to Pamela and said in amazement, "so we don't have to pay for any of these bags!?!" she said "yes" and tears immediately filled my eyes. I could not believe that all seven bags and two carry-ons were all flying for free! What a relief!!!!
Day 1 – We landed in Wroclaw in the morning of Friday, March 17th. My dad and my friend Katherine from the Moc Pomocy foundation arrived to pick us up. Katherine immediately took three suitcases to the warehouse where all the items for Ukrainians have been collected and distributed to when they came to the foundation. While still in the US we wanted to take the medical supplies to the Ukrainian Consulate in Wroclaw, but we had advised that the bureaucracy might delay sending all these important items right away. We found out that Katherine's foundation had raised enough money to buy a brand new ambulance, which would transport the medical supplies our community collected directly to Lviv. 
We kept two 3 suitcases – two from Aleksy and 1 of our own that had medical supplies collected by the folks in Maryland. We wanted to give as many medical items to soldiers in Kyiv. Once we arrived in my apartment, Jason and I immediately wanted to go out to volunteer. As my apartment is right in the downtown of Wroclaw, Jason and I walked the familiar streets of my city hearing Ukrainian and Russian all around us. Our primary destination was the train station, known as PKP Wroclaw. Once we got there, we found the Information Point, where arriving or transit Ukrainians could stop and seek help. As we entered the main hall of the station, we immediately saw a sea of yellow jackets – volunteers wearing yellow vests, assisting desperate travelers. This was the place were we would begin our journey helping refugees in person.
Day 2- On Thursday, March 18th we were on our way to Krakow to pass four suitcases with medical supplies to a woman whose husband had to stay to defend Kyiv. Her friend was going to take these suitcases directly to Kyiv. Once in Krakow, we went to the train station, PKP Krakow to see how Krakow was handling the influx of refugees – and this was the first time that day that I broke down. This building that used to serve as an Information Center was now repurposed as a sleeping quarters for over 100 people. Who would not break into tears seeing this!?!
Later in the day we met with the Ukrainian Natalia and her daughters – we showered the family with some girly staples like the candles, perfume and the coziest leggings and matching tops. Dana, the youngest of the sisters, had the biggest smile when she saw a Pop-It and the Rapunzel outfit along with Rapunzel's matching blond hair! It was an eye-opening experience for us to be able to talk to Ukrainian Natalia. When asked what she and her daughters were doing all day, she answered that she and Justyna volunteered every day, weaving camouflage blankets for the soldiers and her other daughter Maria was still taking virtual classes in nursing directly from Lviv.
Day 3 – Saturday, March 19th.  We left Krakow at 7 a.m. and headed to Wroclaw. We were so ready to volunteer in person. We arrived at the volunteering station. We checked in and received our own yellow jackets and IDs – we were now official. We were sent to the warehouse room, but that was no ordinary warehouse. It was the place where women and their kids who lived at the station or just arrived to Wroclaw came to pick up clothes. You must remember than these women often left their homes with only one backpack. Right away we were put to work. A lady came in looking for a pair of lighter shoes as her daughter came in wearing snow boots. She was looking for size 26. Jason dove into a big box of shoes, but he could not find any shoes that size. He tried searching in a different box but nothing. It was heartbreaking seeing them walking away with no shoes.
Then a little boy came in with his mom. There was this big box of toys. He wanted a little toy car, but again, we couldn't find one. He broke into tears and me too. Unfortunately, we could count many of such episodes during the both days of volunteering. We could only give away what others brought in and that day no one brought a car that little boy could take. Very heartbreaking!
Then Jason and I made new friends. Yulia and Andrey They were from Kharkiv. Andrey has lived in Wroclaw since 2016. He was now hosting Ukrainian refugees. Yulia said that her apartment building was completely leveled a day earlier. She showed me pictures of her flat. She stood in front of me and I hugged her telling her she was so brave and how sorry I was, and broke down in tears. Yulia scolded me for crying; who wouldn't cry knowing that they had no place to go back to! We also told her that people in the US are praying for them and collected all these different items. She whole heartily thanked us. I asked her to come the following day as we still had one more suitcase full of undergarments and socks to give away. After our afternoon of volunteering was over, we met with a city representative Anna Sobolak. Who works directly under the Vice President of Wroclaw. She thanked us for all the bags of needed items that folks in Maryland collected.
Day 4 – Sunday, March 20th. As soon as we got up on Sunday, we headed back to the train station. We got our IDs and yellow vests. But rather than being assigned to the warehouse, we were told to go to the bus station (which was across the train station).  We finally found the station and an older lady grabbed Jason because she was looking for a bus to Berlin or Munich, because her son lived in Munich. Then, this tall Ukrainian guy came up to Jason and shook his hand and simply thanked for all the help that Polish people have been providing to Ukrainians. It was a great feeling to be there and to volunteer. We thank you again for this opportunity.   
Day 5 – Monday, March 21st. It was time to go back to the US, but first we had to get our Covid tests done. We had been lucky that we never had to get PCR tests. Man, I seriously thought this nurse touched my brain and we even paid her for doing it lol! Oh well, that was a small price to pay to be able to go on this trip and help.
Now that we're back in the US, we are continuing to think about ways we can be helpful to the Ukrainian cause. I go back to Poland in June and in addition to being excited to see my parents again (they barely caught glimpses of us on this short trip!) we want to be able to volunteer again.   
Update! Here is the link of Natalia and her interview with a US based news station in Colorado.  https://koacolorado.iheart.com/content/2022-04-28-natalia-mieszczak-live-from-krakow-poland-on-how-she-is-helping-ukrainians/